This coming week is going to be all about the US election and it seems financial markets already started to position themselves last week. The S&P Emini closed lower for 9 days straight and Treasuries raised ahead of this week's vote. Markets are pricing in the uncertainty that a Trump victory could bring as a Clinton win is not a sure thing anymore.
Early last week, price broke the 2100 support and volatility has also increased since. From a technical perspective, there is very little that could keep price from falling all the way into the 2000 area. However, technicals are not going to be as important this week as investors and market participants watch the outcome of the US election. Whereas an election typically does not have a major impact on trading activity and price behavior in the medium term and long term (in our opinion), a surprise Trump win could change that and may lead to immediate volatility of 5-10% potential correction.
Gold is confirming the safe-haven sentiment. With the sell-off in equities, Gold started a rally. This risk-off behavior is also observable in currencies and the Swiss Franc soared on the news that Trump led Clinton by 1 point last week. Gold has arrived at the technically important 1310 area but another wave up is likely at this point. 1340 is the next resistance area on the way up.
Although the US employment data was mostly positive with the unemployment rate staying at 4.9% and the hourly earnings rising. This development makes a FED rate hike in December more likely, but the US-Dollar still had a very bearish week and closed substantially lower. Another signal that the uncertainty factor is weighing heavily on the markets.
Technically, price has almost moved back into the support at 96.50. If the safe haven demand still persists, we could see price fall back into those lows, or even lower.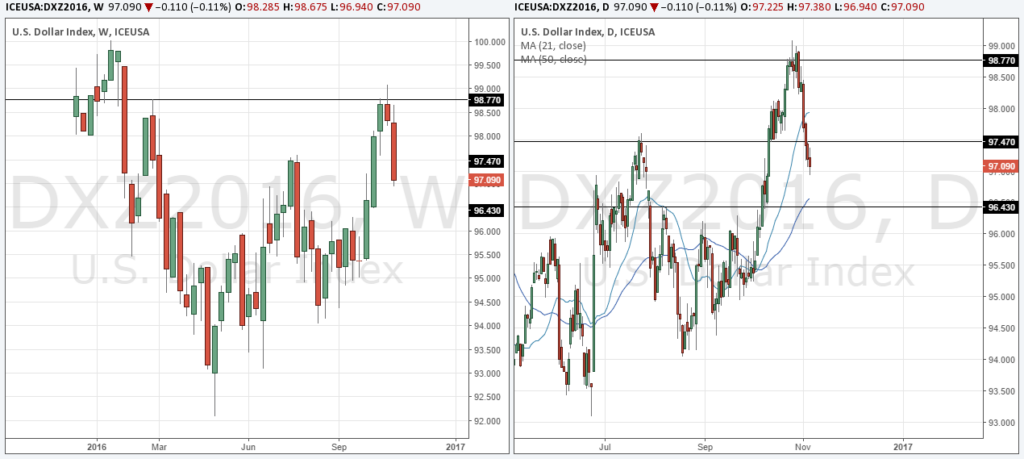 Crude oil sold off for 6 days straight and price is back at 44.00 as it becomes clearer that OPEC won't be able to implement a deal to cut output. Price threatens the 44.00 support level and a breach could open the way into the previous lows at 34.00 – 35.00. Fundamentally, the price of crude oil can fall further, especially since OPEC seems to have lost its power to rule output.
Copper extended its rally and traded higher for the second consecutive week. Economic data out of China last week was positive and manufacturing PMI confirmed the good state of the economy. The positive US job data also showed that the US economy is still doing well which all helped copper to close back at the 2.265 resistance. The trendline seems to be broken for now but the next major resistance at 2.30 is looming above price.
With trade balance data, CPI and PMI being released next week out of China, copper could get the catalyst it needs to breach the resistance at 2.30 which kept it from trading high all year.
There is a substantial risk of loss in futures trading. Past performance is not indicative of future results.